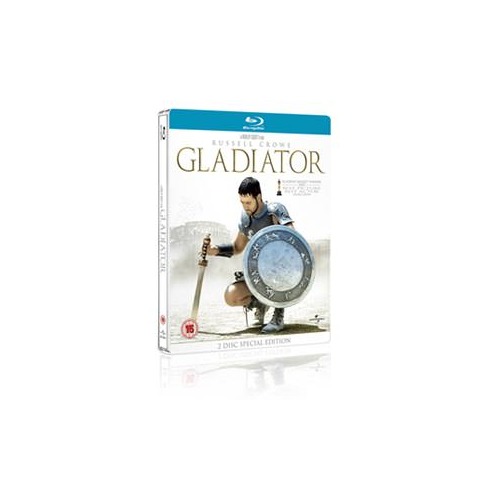 Gladiator : le Blu-Ray sortira en France en octobre 2009 !
Publié le par la Rédaction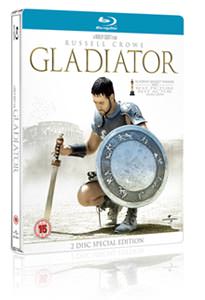 Enorme alerte que nous venons de recevoir du service presse de Universal Pictures Vidéo France !
L'édition Blu-Ray Disc de Gladiator, célèbre peplum de Ridley Scott sortira en France en octobre : c'est officiel.
Il s'agira d'une "Special Edition" comprenant 2 disques double couche avec à la clé : 11 heures de bonus !
Le premier disque intègrera le film dans sa version cinéma et dans sa version longue. Il disposera d'un commentaire audio, de scènes supprimées au montage final et d'un document U-Control baptisé Vision of Elysium: Topic Portal. Le second disque intègrera entre autres le documentaire : Strength and Honour: Creating the World of Gladiator.
Voici tous les détails de cette édition Blu-Ray Disc / le visuel est en bas de page :
DISC 1
Version Cinema – MM A.D. (155 mins.)
- Commentaire Audio du réalisateur Ridley Scott, John Mathieson & Editeur Pietro Scalia
- Scènes supprimées avec commentaire optionnel
Version Longue – MMV A.D. (171 mins.)
- INTRODUCTION DE RIDLEY SCOTT
- Commentaire Audio de Ridley Scott & de Russell Crowe
U-CONTROL FEATURES ON BOTH THEATRICAL AND EXTENDED VERSIONS
- THE SCROLLS OF KNOWLEDGE
- VISIONS FROM ELYSIUM: TOPIC MARKER- A U-Control
DISC 2
- VISIONS FROM ELYSIUM: TOPIC PORTAL – A U-Control
STRENGTH AND HONOR: CREATING THE WORLD OF GLADIATOR (200 mins.) - Documentaire définitif sur l'origine, la production et l'impact de ce chef d'oeuvre
- Tale of the Scribes: Story Development
- The Tools of War: Weapons
- Attire of the Realm: Costume Design
- The Heat of Battle: Production Journals Germania / Zucchabar / Rome
- Shadows and Dust: Resurrecting Proximo
- The Glory of Rome: Visual Effects
- Echoes in Eternity: Release and Impact
- STRENGTH AND HONOR (Picture-In-Picture) U-Control (156mins)
AURELIAN ARCHIVES
- THE MAKING OF GLADIATOR (25 mins.)
- GLADIATOR GAMES : THE ROMAN BLOODSPORT (50mins.)
- HANS ZIMMER: SCORING GLADIATOR (21 mins.)
- MAXIMUS UNCUT:Between the Takes with Russell Crowe (8mins.)
- MY GLADIATOR JOURNAL by SPENCER TREAT CLARK (Text/Photos) -
- VFX EXPLORATIONS: GERMANIA & ROME (24 mins.)
IMAGE & DESIGN
- Production Design Featurette and Galleries (10 mins.)
- Storyboard Demonstration (14 mins.)
- Multi-Angle Storyboard Comparisons and Galleries (15 mins. x 2 angles)
- Ridleygram Galleries
- Costume Design Galleries
- Photo Galleries
ABANDONED SEQUENCES & DELETED SCENES
- Alternate Opening Titles and Featurette (9 mins.)
- Blood Vision (with optional commentary) (3 mins.)
- Rhino Fight (with optional commentary) (5 mins.)
- Choose Your Weapon (1 min.)
- Treasure Chest (7mins)
TRAILERS (2) & TV SPOTS (20) (13 mins.)
Voici le visuel officiel :