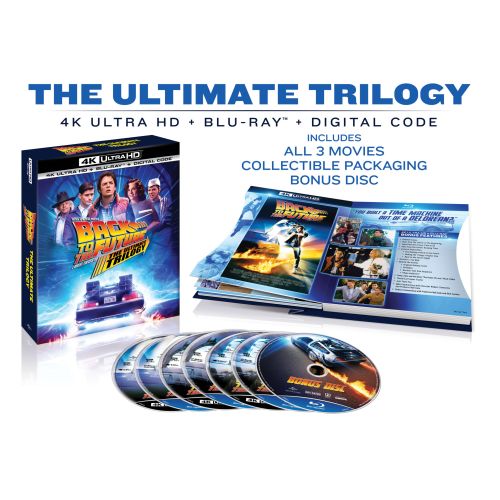 MAJ : Retour vers le Futur en 4K Ultra HD Blu-ray à partir du 20 octobre : Les détails officiels !
Publié le par la Rédaction
Mise à jour le
MAJ du 30.07.2020 : Voici une bande-annonce relative à la remasterisation 4K du premier volet. Malheureusement, le trailer n'est disponible qu'en 1080p. Mais c'est toujours mieux que rien.
L'officialisation des coffrets français a eu lieu : Retour vers le Futur en France : 3 Coffrets 4K Ultra HD Blu-ray sortiront le 21 octobre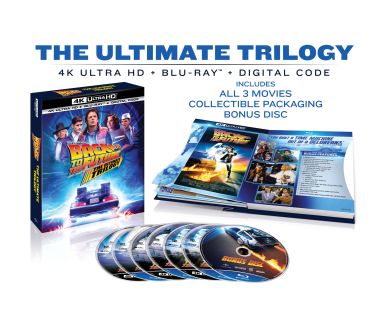 Cela ne faisait plus aucun doute. C'est aujourd'hui officiel.
Le 27.07.2020 : Universal vient d'officialiser la sortie de la trilogie Retour vers le Futur au format 4K Ultra HD Blu-ray. L'oeuvre complète de Robert Zemeckis fête pour rappel le 35ème anniversaire de son premier volet cette année.
La sortie de la trilogie a été fixée au 20 octobre prochain sur le marché américain, en lien avec la célébration de la Journée Officielle "Back to the Future" fixée au 21 octobre (cf : "Retour vers le futur 2", 21 octobre 2015).
Ce coffret 4K Ultra HD Blu-ray contiendra un total de sept disques : trois disques 4K Ultra HD Blu-ray, trois disques Blu-ray ainsi qu'un disque Blu-ray supplémentaire exclusivement consacré aux bonus.
Restaurés en 4K UHD, les trois films seront présentés en résolution 2160p, ratio 1.85 avec les technologies HDR10+, HDR10 et Dolby Vision, ce qui représente une excellente nouvelle. Le communiqué de presse de Universal mentionne bien la présence d'une version originale remasterisée au format Dolby Atmos. Le coffret commercialisé sur le marché américain contiendra également une VF au format DTS 5.1.
Spécifications :
VIDEO: 1.85:1 aspect ratio - Dolby Vision/HDR10+/HDR10
AUDIO: VO Dolby Atmos et Dolby Digital 2.0 ; VF (Européenne) DTS Digital Surround 5.1 ; ESPAGNOL DTS Digital Surround 5.1
Compte tenu des habitudes de l'éditeur en France, il devrait être de même pour le coffret commercialisé dans l'hexagone. Les détails complets du coffret français nous seront communiqués très rapidement.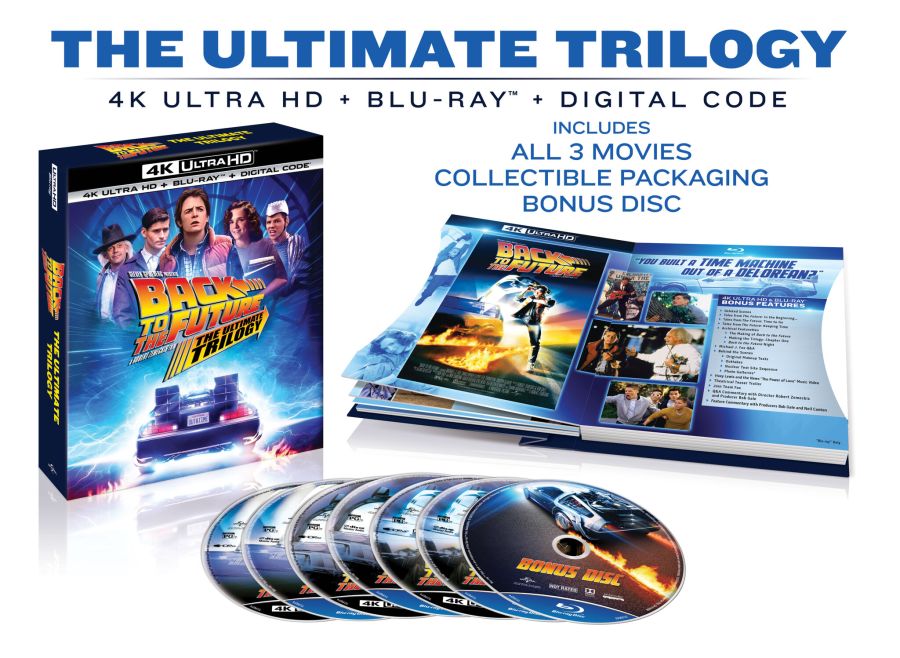 Le disque Blu-ray consacré aux bonus contiendra :
- An Alternate Future: Lost Audition Tapes (NOUVEAU)
- The Hollywood Museum Goes BACK TO THE FUTURE (NOUVEAU)
- BACK TO THE FUTURE: THE MUSICAL Behind the Scenes (NOUVEAU)
- Could You Survive The Movies? BACK TO THE FUTURE (NOUVEAU)
- 2015 Message from Doc Brown
- OUTATIME: Restoring the DeLorean
- Looking BACK TO THE FUTURE
- BACK TO THE FUTURE: The Animated Series
- 2015 Commercials  
A cela s'ajouteront les bonus disponibles sur les trois disques Blu-ray :
Retour Vers le Futur :
Deleted Scenes (Commentary by Producer Bob Gale available)

Peanut Brittle

"Pinch Me"

Doc's Personal Belongings

"She's Cheating"

Darth Vader (Extended Version)

"Hit Me George"

"You Got a Permit?"

The Phone Booth

Tales from THE FUTURE: In the Beginning...
Tales from THE FUTURE: Time to Go
Tales from THE FUTURE: Keeping Time
Archival Featurettes

The Making of BACK TO THE FUTURE

Making the Trilogy: Chapter One

BACK TO THE FUTURE Night

Michael J. Fox Q&A

How He Got the Role

The Character of Doc

Working on a Film and TV Series at the Same Time

Shooting BACK TO THE FUTURE II and III Together

DeLoreans

Special FX and Stunts

The Appeal of BACK TO THE FUTURE
Shooting BACK TO THE FUTURE

Behind the Scenes

Original Makeup Tests

Outtakes

Nuclear Test Site Sequence (Commentary by Producer Bob Gale available)

Photo Galleries*

Production Art

Storyboards

Behind-the-Scenes Photographs

Marketing Materials

Character Portraits

Huey Lewis and the News "The Power of Love" Music Video
Theatrical Teaser Trailer
Join Team Fox
Q&A Commentary with Director Robert Zemeckis and Producer Bob Gale
Feature Commentary with Producers Bob Gale and Neil Canton
Retour Vers le Futur II
Deleted Scenes (Commentary by Producer Bob Gale available)

Old Terry and Old Biff

"Dad's Home" (Extended Version)

Pizza Scene

Jennifer Faints (Extended Version)

Old Biff Vanishes from Car

Burned Out High School

Marty Meets Dave

Tales from THE FUTURE: Time Flies
The Physics of BACK TO THE FUTURE with Dr. Michio Kaku
Archival Featurettes

The Making of BACK TO THE FUTURE PART II

Making the Trilogy: Chapter Two

Behind the Scenes

Outtakes

Production Design

Storyboarding

Designing the DeLorean

Designing Time Travel

Hoverboard Test

Evolution of Visual Effects Shots

Photo Galleries*

Production Art

Storyboards

Behind-the-Scenes Photographs

Marketing Materials

Character Portraits

Theatrical Trailer
Q&A Commentary with Director Robert Zemeckis and Producer Bob Gale
Feature Commentary with Producers Bob Gale and Neil Canton
 
Retour vers le Futur III:
Deleted Scene (Commentary by Producer Bob Gale available)

The Tannen Gang Kills Marshal Strickland

Tales from THE FUTURE: Third Time's the Charm [FEATURED BONUS]
Tales from THE FUTURE: The Test of Time [FEATURED BONUS]
Archival Featurettes

The Making of BACK TO THE FUTURE Part III

Making the Trilogy: Chapter Three

The Secrets of the BACK TO THE FUTURE Trilogy

Behind the Scenes

Outtakes

Designing the Town of Hill Valley

Designing the Campaign

Photo Galleries*

Production Art

Storyboards

Behind-the-Scenes Photographs

Marketing Materials

Character Portraits

ZZ Top "Doubleback" Music Video
FAQs About the Trilogy
Theatrical Trailer
BACK TO THE FUTURE: The Ride
Q&A Commentary with Director Robert Zemeckis and Producer Bob Gale
Feature Commentary with Producers Bob Gale and Neil Canton